Are landlords losing rents? Are they keeping up with the 8% annual increases in cell site revenues?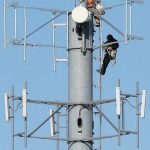 Rogers is deploying high capacity antennas.
Bell is carrying Telus in eastern Canada. Telus is removing sites in the east.
Telus is carrying Bell in western Canada. Bell is removing sites in the west.
Shaw has bought WIND – now Freedom Mobility for expansion.
Bell has bought MTS (Manitoba) now Bell MTS and will re-deploy there.
New high capacity antennas are being installed everywhere.
Billions are being made. Are landlords getting increases as well?
Ask us how.
If you have received an letter to make changes from Rogers, Telus, Bell or Freedom – give us a call.
If you have a letter from Md7 to reduce your rent – give us a call.
Rogers and Telus have announced a massive expansion into LT networks that will accommodate the higher data rates demanded by cell users of video and data. The existing systems are quickly reaching capacity. A single video uses up as much capacity as 1,300 cell phone conversations. Both carriers are positioning to grab the lion's share of this market. The immediate consequence is the need to install of many more antennas ( transponders) to beef up the backbone for these high data needs.
Contact Antenna Management to find out your options before you sign anything. Don't miss out the revenue growth. Don't accept CPI as your index.
Antenna Management aims to protect your long-term interests while facilitating a positive and profitable relationship with carriers.